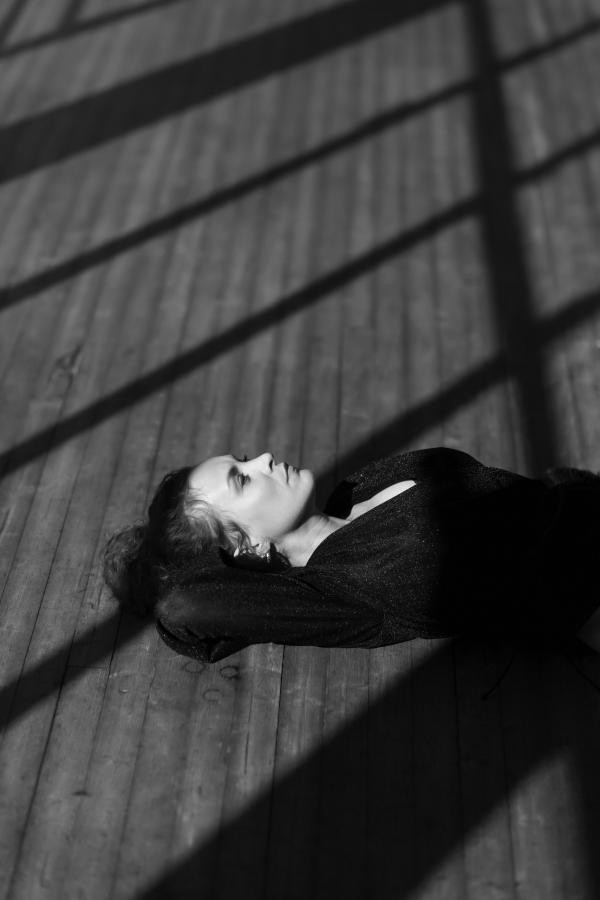 From 1999 - The beginning

In 1999 Beate was asked by Bugge Wesseltoft to make a record for Jazzland rec. The company gave her the artistic freedom to make the recording she wanted. In the early stages, Beate took on all of the work herself; composing, arranging, text writing, programming, recording and producing. She did as much as possible in her 6 sq. meter flat with her Macintosh. Most of the music was recorded in her flat, and for lack of space, the strings, vibraphone and drums had to be recorded in Bugge's Room. As the project progressed, Marius began to help out. He took care of the groove elements while Beate composed the melodies, harmonies and lyrics, with some exceptions both ways. The product of this work, done in their private surroundings, would be entitled "Home".

Marius' contribution to the album was tremendous and the original project title "Beate S. Lech" was abandoned. "Beady Belle" was formed and the duo worked concretely for one and a half years producing their new record.

From 2001 - The first release

"Ghosts" became Beady Belle's first promo single in Norway. It was played extensively on Norwegian national radio. Their second single was "Lose and Win". In May 2001, Beady Belle'sÊfirst international single was released containing the songs "Ghosts" and "Moderation".

"Home" was released all over Europe and also in Japan, Korea and Canada during the summer 2001. Later it was also released in Australia. Beady Belle was given "European Priority" by Universal International. After the release of the "Home" album, Beady Belle traveled around the world performing their music (check "Concerts"). Beady Belle has, more or less, been on tour since their first release in 2001.

From 2003 - Things really start to happen

The work with cd number 2, "cewbeagappic" started the spring 2002. Once again, Beate and Marius did everything on their own - of course with a lot of help from many good musicians.

International singles were "Bella" and "When my anger starts to cry".

The title, CEWBEAGAPPIC, is an attempt at describing Beady Belle's music. Since they couldn't find the word in the dictionary, they made the word themselves:-) The word is built on contrasts: 
CE stand for Complex + Easy 
WB stand for White + Black 
EA stand for Electronic + Acoustic 
GA stand for Groovy + Ambient 
PP stand for Played + Programmed 
IC stand for Improvised + Composed

From 2005 - gilt-edged acquaintances

Beady Belle's third album, "Closer", was released in 2005. Beate and Marius set off to fine-tune their creative output. Beate says, "We've tried to make an album that's closer to the listener, for the most part taking away embellishments and emphasizing the essence of the music. The strings don't have the purpose of being lushly arranged harmonies, but serve to bring the musical theme into the foreground. Even the sound of the strings are sharper, clearer. And one can hear the breath of the musicians."

International singles from this album was "Skin-deep" and "Closer".

In the three year's since the "Closer" release, the members of the band went through a number of changes. Perhaps the most personal being Beate becoming a mother, which influenced the direction of the newest album. Another big change was the addition of new band member - drummer, Erik Holm.

Recently, Beady Belle has enjoyed the support and encouragement of some fantastic artists. After a concert in London during a European tour in 2005, the UK jazz/pop performer Jamie Cullum came backstage to talk with the band. He was a really big fan. That meeting sparked a big tour over UK + some concerts in Germany, France, Norway, Sweden and Denmark, with Beady Belle as Cullum's supporting act.

In 2006 another American soul/pop artist was on a promotion tour in Europe to promote her new album. This was India.Arie. She was interviewed by Trevor Nelson at BBC where she spoke for a long time about her favourite band: Beady Belle! Beady Belle contacted India.Arie to thank her for the wonderful words. This contact resulted in new collaborations and the funky duet, "Self-fulfilling", on Beady Belle's fourth album.

From 2008 - change of style - finally a Norwegian break through 

"Belvedere" was Beady Belle's fourth album. Released in February 2008. This album was leading the group into a smoother, more soulful and at times offered an almost "Nashville"-flavoured textural landscape. The colaboration between Beady Belle and Jamie Cullum continues, where he joins in on the duet - "Intermission music". The soulful, almost funky sound of "Belvedere" was enhanced by the sounds of Dobro, steel guitar, banjo, mandolin and marxophone thanks to theÊskillful playing of Geir Sundstøl. Jørn Øien playd with his brilliant jazz approach, both grand piano, wurlitzer and other keyboards, as he has done on previous albums and tours. "Jarle Bernhoft is Norway's best male singer" according to Beate. When you hear his rough yet smoothe backing vocals on this album, you'll know what she means. "Belvedere" was a more down-to-earth sounding album, produced by the band and Anders Engen. As the literal meaning of "Belvedere" is "beautiful view", the album's nine tracks layed out before us the most beautiful sonic landscapes. If you let your ears see, then "Belvedere" will most certainly welcome you into very friendly territory. 
After the release of this album, the band has toured many places in Europe and America, but the new thing is that thay also played all over Norway! Finally Beady Belle had gotten a big Norwegian audience as well.

First single from "Belvedere" was "Intermission music" featuring Jamie Cullum.

From 2010 - synthesis of old and new 

Beady Belle's fifth album "At Welding Bridge" is released September 2010. This album is a synthesis - or a welding - between the first three albums - on the one hand - and the fourth album - on the other. The first three albums had electronic and symphonic elements that were gone on the fourth. The first albums were carefully and totally produced while the fourth was more straight forward live recorded. And on the fourth album the country element came in. The fifth album has taken everything from both sides of the synthesis. Some electronic elements are there, and the symphonic elements are in the wind arrangements - horn and bass clarinet by Hild Sofie Tafjord and Lars Horntveth - wich gives a mysterious, woody sound. It has been more important than ever to have musicians with strong musical signatures on this album. No compromises! And their unique way of playing is welded together in a new sound. Musicians on this album are: Geir Sundstøl (country guitars), Bjørn Lier (rythm guitars), David Wallumrød (organ, wurlitzer, clavinet, piano etc), Jørn Øien (grand piano and piano) og Tommy Kristiansen (slide guitar on Runaway mind). 
The majority of "At Welding Bridge" takes many of the musical conventions of country music, sets up expectation of the predictable country course, only to jump sideways into a purely urban cool jazz style, or have that vibe dissipate in a smoky haze of smooth soul cool ("The Storm", "Ambush"). But Beady Belle have never been purists: The stylistic juxtapositions are done with aplomb, never feeling bolted together, but instead are seamlessly blended, moving confidently across or simultaneously through different genres. The standard country instrumentation, particularly the guitars, shares a common ancestry with the LA sound of the seventies, while the more C&W arrangements echo Ennio Morricone's approach to the genre ("Walk on Air", "Apple (Interlude)"). But this isn't derivative - this is 21st century songwriting, speaking to the 21st century heart. 
Beady Belle's approach has been one of steadfast commitment to their sound, gradually evolving, coaxing new elements to blossom that had previously only been hinted at, augmenting it with new elements, creating a consistently strong body of music, each step more confident than the last. To compare this album with "Home", it is easy to hear just how much ground they have covered in just 9 years. Just like its predecessors, "At Welding Bridge" is shot through with genuine warmth, heart, and - yes! - soul. Pure soul! 
Beady Belle has this time collaborated with the great art photographer Tom Sandberg. The atmosphere in his pictures fits the music on this album just perfect. Sandberg makes black and white photos and he has a unique "sound" in his visual expression. Beady Belle has had permission to use many pictures from his collection, and in addition he has made new photos for this album. Photos, lyrics and music is welded togehter in a trinity which is a little darker, muffled, silently characteristic, clandestine and mysterious in a way, but at the same time still intuitive, groovy and urban.

From 2013 - Concept
Beady Belle's sixth album, "Cricklewood broadway" is released this year. The lyrics of the entire album is based on the novel, "White teeth" by Zadie Smith. The story takes place in London  - about three families, from different cultures, religions and generations searching for identity. 

From 2015 - "On my own"
In 2015 the Beady Belle band decided to go separate ways. Meaning that Beady Belle, the singer and songwriter, continued the journey alone. She then decided that she wanted to do something quite different from before. She contacted Bugge Wesseltoft and he was going to be the producer of the new album. Beady Belle made all the songs, and then they went to New York and recorded the album with American world class jazz musicians - Joshua Redman, Gregory Hutchinson and Reuben Rogers. The band was solid jazz, Beady Belle's songs was intuitive and melodic and her voice was more velvety and "souly" than ever. 
From 2018 "Dedication"
With "Dedication", Beady Belle has drawn together all the threads of inspiration at the core of who she is and has woven a brand new tapestry that is vibrant, organic, energetic, cool, emotional, intimate, and unequivocally funky. Soul and R&B have always been close to Beady Belle's heart, and with "Dedication", she is fully immersed in these twin worlds.  "I associate this music with the 70's," she says. "It's recorded live with old, original instruments. Raw and unpolished. With the groove as an unstoppable engine, I get the vibes of my great heroes, Stevie Wonder, Marvin Gaye, Donny Hathaway and Aretha Franklin, while there are whispers of younger Soul artists like Alicia Keys, Raphael Saadiq, Lauryn Hill and Frank Ocean."
The title, "Dedication", refers to the most important thing in life - at any given time - as you go through hell and high water to achieve it. It is the battle that requires full dedication to win. But winning is never guaranteed ... The prize can be a breath of happiness, a sigh of relief, a roaring victory or a liberating calm. We all have battles to fight. "Sometimes you have to keep an eye open for a steady course," she says. "And the way forward can be put in the shadow of the goal ahead. But if you find your own honest path, you can still be present while walking. The roads to Rome are many ..."
From 2019 - TV shows
Beady Belle participated in the very popular TV show "Stjernekamp" on Norwegian TV the autumn 2019. A competition between famous Norwegian artists performing genres out of the comfort zone. Beady Belle had great success and ended as the best female artist in the competition and received a lot of attention and good reviews in Norwegian media.
In 2021 she participated in MGP. Eurovision Song Contest with the song "Playing with fire". MGP is a colorful circus and a show that she enjoyed being a part of, and also here she received very good reviews - although she didn't make it to the finale.
20 years anniversary - 2021
Beady Belle's 9th studio album was supposed to be released in the jubilee year - 20 years after the debut album "Home" (2001). Due to Covid19 it had to be postponed, so the jubilee album will be released early in 2022. Beady Belle has been inspired of the situation in the world and has made the album on her own in her own bubble at home - reminding strongly of the prosess of the album "Home". All though the prosess is the same, the times have changed during 20 years. "I wanted to take back some of the electronic elements, programmed beats and produced feeling from my first release, but in a new perspective", she says. "But even if everything is distinctly produces I wish to keep it warm, close and playful. This is soul", she adds. She has been working alone during the whole pandemic only with a few musicians involved. "On this album I cant hide behind anything. I can't blame anybody", she smiles, "This is Beady Belle - all the way - honest and true".